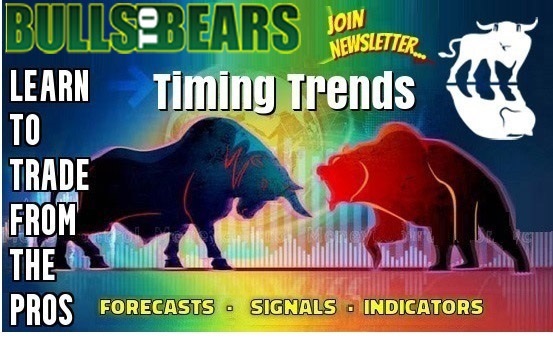 To consistently make money in the stock market, you want to focus on trading stock trends!
Trends are what allow traders and investors to capture profits. Whether on a short- or long-term time frame, in an overall trending market, or a rangebound environment, the flow from one price to another is what creates profits and losses.
But what are the characteristics that make up a trend? A trend is the overall direction of a market or an asset's price. In technical analysis, trends are identified by trendlines or price action that highlight when the price is making higher swing highs and higher swing lows for an uptrend, or lower swing lows and lower swing highs for a downtrend.
Trends can be both upward and downward, relating to bullish and bearish markets, respectively.

There are three main types of trends: short-, intermediate- and long-term.

Below are some examples of stock trends:
Stage 1 is an uptrend it's characterized by a series of higher highs (HH) & higher lows (HL).
Stage 2 is a downtrend that's characterized by a series of lower highs (LH) & lower lows (LL).
Stage 3 is a sideways trend that's characterized by similar highs (SH) & similar lows (SL).

All create a series of peaks and troughs on the charts that you can trade quite successfully.
Stocks Trends Versus Trading Ranges:
It is estimated that stocks only trend about 30% of the time. The rest of the time they move sideways in trading ranges. This is what a trading range looks like: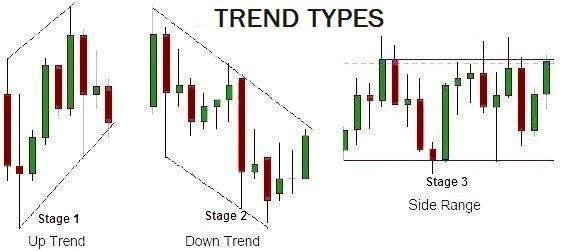 Yeah, trading ranges can get that sloppy! There is absolutely no reason to trade stocks that are chopping around like that when you can trade stocks that are in the trending phases. Trying to trade stocks in trading ranges (stage 1 and stage 3) is a great way to chew up your trading capital. Stick with trends!
Stage 1: This is a stock in a nice up trend:

Stage 2: This is a stock in a steep downward trend:
Stage 3 : And, this is stuck in a trading range: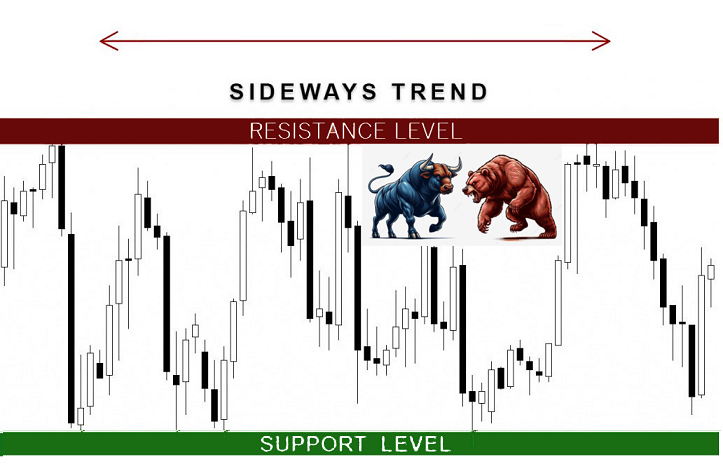 Q: Which one would you rather trade?
If you look at any stock on a chart that is in a strong uptrend, you will find that the pullbacks are short lived. This gives you a excellent opportunity to buy the stock before it resumes the uptrend.
Same thing with stocks in down trends. The rallies are short lived which gives you an excellent opportunity to short or buy puts on them.

Want to Learn How to Trade Stocks Like a Pro?

Our trading guide will give you the edge you need to succeed. You will learn a simple trading strategties that will enable you to run circles around the novice traders that you will profit from!

Step 1:

Step 2: Learn the basics. Learn the basics of trading stocks from veteran financial professionals and build a solid foundation for years to come.
Step 3: Learn the strategy.

The stock market is changing its behavior so our stock trading strategies are evolving constantly. There is another important point that we want to stress in this context. The stock market is not always the same. It can have different phases like bull stock market, bear stock market or range bound market.

There are also very volatile markets and days or weeks with low volatility on stock market during weeks or months.

So I think that its important that we have developed several different stock market strategies that are used in different markets.

There is also another terms used together with our stock market strategies. It is also necessary to understand that the stock trending trading strategy or stock trending system is only part of BullsToBears.com's trading strategy.